Boy Scouts, it is time to earn your Animal Science merit badge!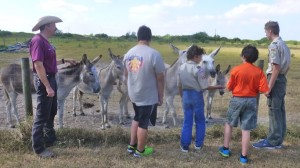 We have the wonderful opportunity to offer the Animal Science Merit Badge.
Meet farm and ranch animal breeds of cattle, sheep, hogs, poultry, and goats
Learn about common diseases found in animals
Discover the nutrition requirements and digestive system of various livestock
Forget Steam's Goat Simulator; obtain hand-on access to goats with additional specific Information
Find out about career opportunities in livestock care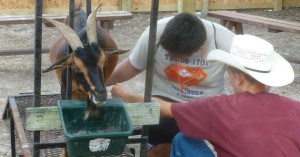 "Cattle, horses, sheep, goats, hogs, poultry, and other domesticated animals are important to people for many reasons. They supply us with food and clothing. We use them for recreational purposes. They work with and for us."
– BSA Animal Science Pamphlet
---
Here's how it works
2  ½ hour long slide presentation in a classroom setting by GHR at our ranch or your location.
2 ½ hour long tour at GHR where boy scouts see and apply what they learned during the presentation.  This is our standard tour adjusted slightly to correlate with this badge.

The price is $8.00 per scout or scout leader.
Call us at 1-844-Visit-GHR and schedule a time for your troop to earn their Animal Science Merit Badge!!