Merry Christmas!!
For some of you it's been a long time since we saw you on the tour.  For others, it seems like just last week!  Well, I guess it was.  We here at Grace Heritage Ranch would like to take this time to wish you a very Merry Christmas and let you know of a free event we have coming up.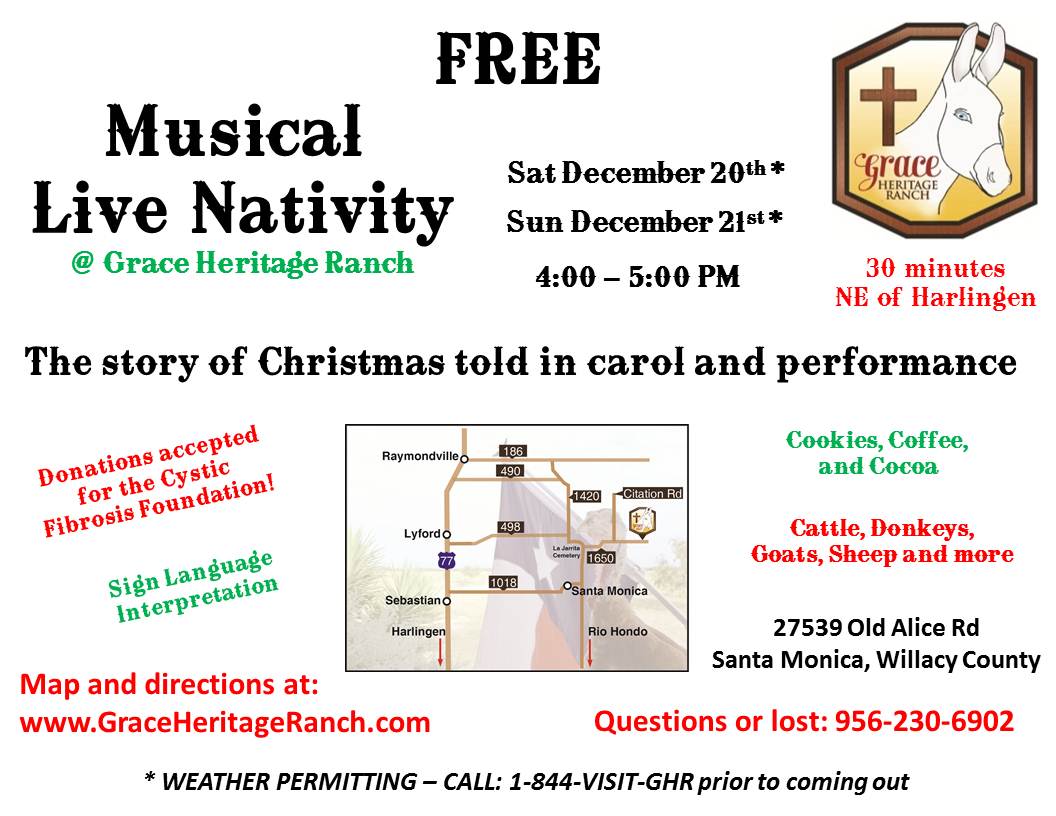 Click here to download the PDF flyer for this upcoming event!
When:
Saturday December 20th and Sunday December 21st
Where:
Grace Heritage Ranch
What time?
We will be presenting a musical live nativity from 4:00 -5:00 PM.
Additional Information:
The story of Christmas will be told in performance and traditional Christmas carols.  Donkeys, goats, sheep, cattle and more will all be a part of this outdoor activity!  This is a free presentation with donations encouraged to benefit the Cystic Fibrosis Foundation.  The entire event will also be interpreted in Sign Language.  So, git yer boots 'n jeans on and c'mon out for some cookies, coffee, cocoa, and a good time.  Remember, we are located just 30 minutes N.E. of Harlingen.
Since this is an outdoor event, it will be held weather permitting. Please call 1-844-Visit-GHR for a recorded message prior to coming out. For more information, please call Brian Schalk at 956-230-6902.
Blessings,
Brian and Mary Schalk